AFFORDABLE DISASTER RECOVERY FOR ORACLE STANDARD EDITION
Amichai Lesser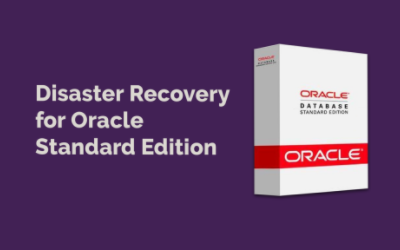 Overview
The Oracle database is considered to be one of the most popular database management systems for organizations. Regardless of any budget constraints they may face, organizations need to ensure maximum availability and comprehensive data integrity at all times while conforming to uptime regulatory constraints.
Unfortunately, legacy methods such as database exports or proprietary backup formats are not enough. They simply aren't capable of providing high availability and Disaster Recovery (DR) to ensure continuity in the event of a "disaster".
Challenges
Remote replication of Oracle databases for DR purposes is only possible with Data Guard, which requires Oracle Enterprise Edition licensing. There is currently no affordable out-of-the-box DR solution available for the Oracle Standard Edition.
Initial pricing for the Oracle Enterprise Edition is prohibitive for many organizations. What's more, Oracle's per-CPU pricing scheme significantly adds to this cost when organizations scale. Costs increase in multiples with the potential of reaching prices that are orders of magnitude larger than the original Standard Edition license spend.
To avoid the added cost of the Enterprise Edition, many organizations look for alternative DR solutions so that they can remain with Oracle Standard Edition. These alternative DR solutions are either third party tools or in-house solutions. In-house solutions are risky, costly to maintain, often unproven and difficult to support. Third party tools however can provide cost-effective, reliable, and proven solutions to DR.
The issue with most of these third party solutions is that they only work with physical database servers. Third party solutions that support DR for Oracle databases over hybrid infrastructure, private or public managed systems, PaaS or Database-as-a-Service are not common.
Solution
With no out-of-the-box solution available from Oracle, Standard Edition licensees have no choice but to develop an in-house solution or turn to third party providers to support high availability and DR for hybrid platforms.
The Accelario Disaster Recovery solution delivers a constant backup copy to ensure fast disaster recovery for both on-premises and cloud deployments. The cost-effective solution also supports optimal uptime levels and comprehensive data availability for the Oracle Standard Edition.
Unlike legacy methods, Accelario Disaster Recovery solution provides a live, backup copy of the database that is synchronized incrementally at all times and empowers quick recovery and switchover. Backup windows are near real-time and extremely fast. The solution enables instant recovery for on-premises physical servers, virtual machines, public cloud and managed platforms such as AWS RDS and Oracle Cloud ADW/ATP.
Summary
What are your options
How Accelario helps
Deploy the Enterprise Edition licensing at a significantly higher cost.

Affordable licensing pricing for Oracle Standard Edition users.
Support for on-premises physical servers, virtual machines, public or private cloud, and managed platforms such as AWS RDS and Oracle Cloud ADW/ATP.
Fast, native format, near real-time synchronization, anywhere.
Recovery/failover in just minutes by switching to the backup copy database.
Compatible with Oracle Enterprise Edition.

Develop an in-house solution, which can be risky and hard to maintain.
Source third-party tools for Oracle Standard Edition DR.
Hybrid infrastructure: Third-party tools that support on-premises, cloud and managed platforms out-of-the-box; rare to find.
To learn more about the Accelario Disaster Recovery Solution for Oracle Standard Edition Info@accelario.com
All Rights Reserved Accelario 2021©